Hazardous Waste Management, Removal and Disposal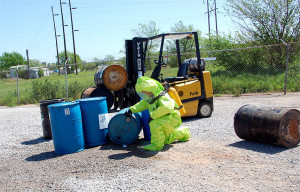 January Environmental specializes in the cradle-to-grave management of hazardous waste, providing professional, cost-efficient service that minimizes your company's liability.
Our OSHA-certified hazardous waste technicians expertly and efficiently collect hazardous liquid and sludge waste from your facility, anywhere in the continental United States, and transport it for proper disposal. We guarantee strict compliance with federal and state regulations, from profiling and collection to transport and disposal. January Environmental's comprehensive hazardous waste services include:
Hazardous Waste Sampling, Analysis, and Profiling
Nationwide Collection, Transport and Disposal
Recovery/Recycling
OSHA-Certified Confined Space Entry
Tank Cleaning
Vacuum Services
24/7 OSHA-Certified Emergency Response
We require our hazardous waste technicians to undergo Hazardous Waste Operations and Emergency Response (HAZWOPER) training. In addition, all January Transport drivers complete Department of Transportation (DOT) training to ensure safe movement and delivery of hazardous waste.
January Transport has hazardous waste authority throughout the United States, and carries full insurance and all required permits. We provide complete documentation to all clients.
Contact January Environmental to learn about how we can save you money with hazardous waste management services.