Hazardous Waste Services by January Environmental Services, Inc.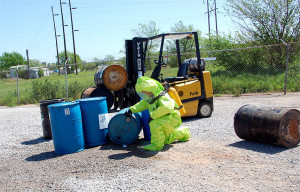 January Environmental specializes in cradle-to-grave hazardous waste management disposal methods, providing professional, cost-efficient service that minimizes your company's liability.
What is Hazardous Waste?
The EPA defines hazardous waste as any waste containing properties that make it dangerous or capable of having a harmful effect on human health or the environment.
Hazardous waste can come from several different sources (everything from industrial manufacturing processes to batteries) and comes in various physical forms such as liquid, solids, gas, and sludge.
Ignitability
Waste that is considered flammable. This includes solids capable of spontaneously combusting, liquids with a flash point of 60 degrees Celsius or 140 degrees Fahrenheit (such as alcohol, gasoline, and acetone), and compressed gasses.
Corrosivity
Hazardous materials capable of rusting or decomposing. Corrosives are defined as any liquid with a pH of less than or equal to 2, or greater than or equal to 12.5, or possesses the ability to corrode steel. Examples of these materials include hydrochloric acid, nitric acid, and sulfuric acid, most can typically be found in everyday items such as rust removers and battery acid.
Reactivity
Any waste that is at risk of exploding or having a violent reaction. The EPA defines reactive waste as being:
● Unstable and routinely experiences violent change without detonating
● Potentially explosive when mixed or combined with water
● Release toxic gasses when mixed with water
Toxicity
Materials that are poisonous due to toxic characteristics. This waste is harmful when ingested or absorbed and may potentially pose a pollution threat to groundwater
Our Methods to Dispose of Hazardous Waste
Our OSHA-certified hazardous waste technicians expertly and efficiently collect materials from your facility, anywhere in the continental United States, and transport it for proper hazardous waste disposal.
We guarantee strict compliance with all federal and state regulations and require our hazardous waste technicians to undergo Hazardous Waste Operations and Emergency Response (HAZWOPER) training. In addition, all January Transport drivers complete Department of Transportation (DOT) training to ensure safe movement and delivery of hazardous waste.
January Environmental's comprehensive hazardous waste management services include:
January Transport has hazardous waste authority throughout the United States and carries full insurance and all required permits. We always provide complete documentation to all clients.
Contact January Environmental today to learn about how we can save you money with our professional and convenient hazardous waste management services.